Give New Look To Your Places With Ablution Mats UAE
If you're looking for a valuable and fashionable way to keep your house safe from the dirt and pollution in the city, then you need to check out Ablution Mats Dubai Collection. We have a wide variety of Ablution Mats to choose from, so you're sure to find the perfect one for you. Plus, Our incredibly professional and active staff is sure to help you get through your preferable flooring in record time.
Ablution mats Dubai are those floor mats which are placed outside the prayer room or musalla in order to perform wudhu (ablution) before offering prayers. They are big enough to place both feet on them and are generally made of rubber or some other non-slippery material.
Ablution mats UAE are available in different sizes, colors, and designs. Most of them have Islamic inscriptions on them. They are placed outside the mosques, madrasas, and Islamic centers.
Explore The Premium Crafting Of Our Ablution Mats Dubai In UAE
The Ablution Mat Dubai are mostly found in mosques areas as they are designed for routine and continuous washing before prayers. These Mats always remain wet so obviously, there is a high possibility of slippings. To evade falling and slipping, we offer Slip-Resistant Custom Made Ablution Mats Dubai at market-competitive costs.
Our ablution mats are perfect for any room in your home, office, or place of worship. They are beautiful, functional, and durable. We are confident you will find our mats to be the best on the market.
So if you are looking for the best ablution mat in Dubai, today! We offer the highest quality mats at the most competitive.
We Are Here To Support You.
Your buying experience will be quick and easy with the help of our customer service team.
Some Crucial Noticeable Features Of Ablution Mats UAE
There are also many other benefits of Ablution Mats Dubai installation Services which are as follows: – 
Minimizes knee scraping and noise pollution.

Comfy and cozy flooring.

Pleasurable stance.

These Mats are easy to clean, install, maintain, and repair.

Portable Abultion Mats.

Reasonable prices.
Nonallergenic Ablution Mats for sale.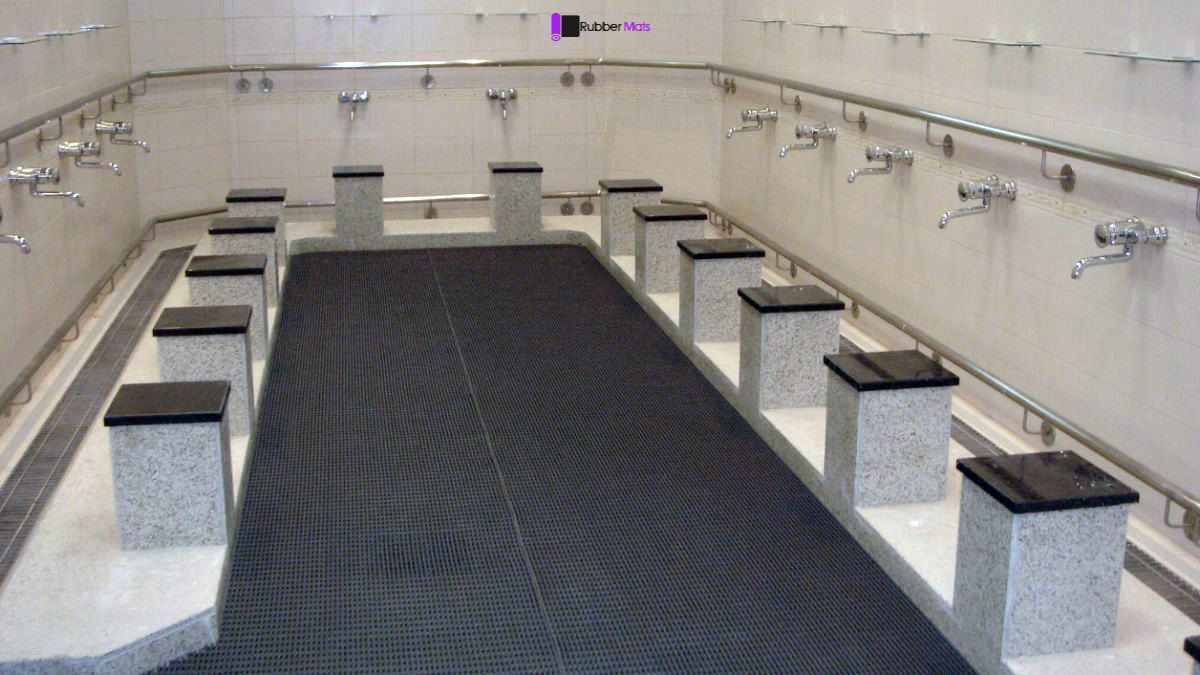 Ablution Mats In Dubai: The Best Quality For The Lowest Price
Ablution mats in Dubai are an essential part of Muslim life, and there is no better place to find the best quality ablation mats than in Dubai. At AblutionMats.ae, we pride ourselves on offering the best quality mats at the lowest prices. Our mats are made from the highest quality materials and are designed to last.
We offer a wide range of ablution mats, from small mats for personal use to large mats for commercial use. We also offer a variety of colors and designs to choose from, so you can find the perfect mat for your needs.
Why Choose Us!
Rubbermats.ae is providing the Best Ablution Mats Dubai Installation Services at market-competitive prices. We are offering the best Mats for sale in UAE. Our Professional Team is always ready to provide helpful and efficient Ablution Mats at Cheap Prices in the UAE.
We are the Best Rubber Mats Dubai Suppliers in UAE and our products are available in all major cities in UAE in different designs, colors, and sizes. So, if you're looking for "Best Abulation Mats near me" then you should browse through our website and choose the Ablution Mats that suit your needs and requirements.